One person was killed and four seriously injured when Russian forces shelled an evacuation convoy outside the northern Ukrainian town of Chernihiv, officials in Kyiv said today.
"Five buses came under direct enemy fire as they attempted to drive into the surrounded town to evacuate residents," Ukrainian mediator Lyudmyla Denisova said on Telegram.
"There were only civilian volunteers on the buses. As a result of the shelling, one person died, four were seriously injured."
Ms Denisova said Russian forces were "denying any chance of evacuating peaceful citizens from besieged Chernihiv, essentially holding tens of thousands of people hostage without food, water or heating".
She said Russian troops were constantly shelling residential neighborhoods.
Chernihiv, a pre-war city of some 280,000, saw the fiercest bombardment, second only to Mariupol in the south, which was virtually destroyed.
Chernihiv Mayor Vladyslav Atroshchenko said earlier this week that the city had lost 350 people in the war, mostly civilians.
It comes as the Ukrainian Defense Ministry said Russian forces had killed 148 children, fired 1,370 missiles and destroyed 15 Ukrainian airports since the start of the invasion.
Russia promised yesterday to "drastically" reduce fighting around Chernihiv and kyiv, but shelling continued there.
"The enemy is moving into the territory of the region. Can we call it a troop withdrawal? I'm not sure," regional governor Vyacheslav Chaus said in a video address on Telegram.
Meanwhile, Ukrainian President Volodymyr Zelensky said the situation in the south and the Donbass region remained extremely difficult and reiterated that Russia was building up forces near the besieged city of Mariupol.
And in a rare sign of internal dissent, Mr Zelensky also said in a video address that he had fired two senior National Security Service officials on the grounds that they were traitors.
Mr Zelensky said the Russians were so wicked and so hungry for destruction that they seemed to be otherworldly, "monsters that burn and loot, that attack and are bent on killing".
He said Ukrainian forces pushed the Russians back from kyiv and Chernihiv.
"There will be battles ahead. We still have to walk a very difficult path to get everything we want," he said.
"The situation in the south and in the Donbass remains extremely difficult."
Russia's refocusing of military efforts on the Donbass region in eastern Ukraine could herald a "longer and more protracted conflict" as Ukrainian forces put up fierce resistance in the eastern region, it said. a senior US defense official said today.
"It's been disputed for eight years now," the official said of the hotly contested region of Donbass.
"Ukrainians know the territory very, very well," the official said. "They still have a lot of strength there and they are absolutely fighting very hard for this area."
"So just because (the Russians) are going to prioritize it and put more forces or more energy into it doesn't mean it's going to be easy for them," the official said.
"This could be a harbinger of a longer, more protracted conflict here as the Russians try to gain weight, progress and maybe earn some chips at the negotiating table."
Five weeks after the start of an invasion that blew up wasteland cities and created more than four million refugees, US and European officials said Russian President Vladimir Putin had been misled by his generals about the disastrous performance of the Russian army.
We need your consent to load this content rte-playerWe use rte-player to manage additional content which may place cookies on your device and collect data about your activity. Please check their details and accept them to load the content.Manage preferences
The International Committee of the Red Cross (ICRC) said it was delivering an aid convoy to reach the beleaguered Black Sea port of Mariupol.
Tens of thousands of people have been trapped there for weeks under bombardment, without food, water or heating.
Russia said it was reducing its offensives near the capital and in the north and was now focusing on "liberating" Donbass.
NATO chief Jens Stoltenberg said he does not see a withdrawal of Russian forces and expects "additional offensive actions".
"According to our intelligence, Russian units are not withdrawing but repositioning. Russia is trying to regroup, resupply and strengthen its offensive in the Donbas region.
"At the same time, Russia is keeping pressure on Kyiv and other cities, so we can expect additional offensive actions, bringing even more suffering."
Mariupol, once a city of 400,000 people, was destroyed by four weeks of relentless bombardment and siege. The United Nations believes that thousands of people died there.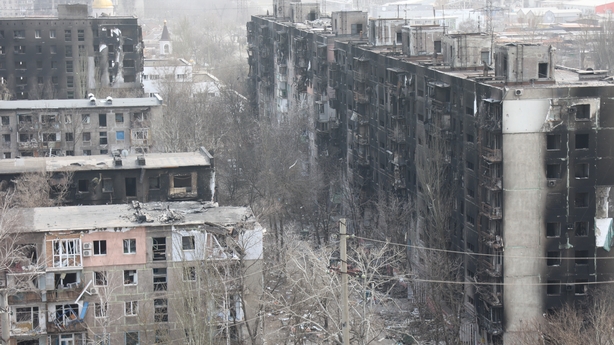 ---
Read more: The Russian invasion of Ukraine
---
Previous attempts to bring aid to besieged parts of the city failed, and civilians were only able to escape if they had cars.
Ukraine said 45 buses were on their way today and the ICRC said it would evacuate civilians from tomorrow if warring parties agree on safe passage.
"It is extremely important that this operation takes place. The lives of tens of thousands of people in Mariupol depend on it," ICRC spokesman Ewan Watson said in Geneva.
The past week has seen a Ukrainian counter-offensive, retaking the destroyed suburbs of Kyiv and strategic towns and villages in the northeast and southwest.
Russia calls its decision to withdraw near the capital a gesture of goodwill for the peace talks. kyiv and its allies say it's an excuse to try to regroup from its losses.
Evidence of Ukraine's successful counterattack could be seen in Trostyanets, now in Ukrainian hands after being recaptured this week.
The eastern Ukrainian city controls a road leading to Sumy, a major city that had been besieged.
Burnt Russian tanks and abandoned ammunition littered the rubble of the city. Stunned civilians and a few Ukrainian soldiers roamed the muddy streets.