The trigger units in our test guns had a measured pull weight of around 1900 grams with clean characteristics and a pleasantly short reset. Since the beginning of the year, the the cutout for the night sights has been extended by about two millimeters on the entire PDP series, so that the Aimpoint ACRO C-1/P-1 and C-2/P-2 as well as cheaper models such as the Burris Fast Fire or the Vortex Venom can now also be mounted.
From a bird's eye view, the differences in length of the two Walther PDP Pro pistols become clear. Iron sights are compatible with Glock sights.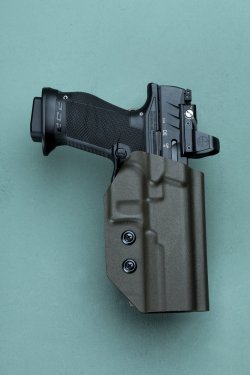 Major manufacturers like Safariland naturally offer PDP cases. Matching custom cases for PDP models are also available from AA1 Shooting (www.aa1shooting.com), among others.
Typical features of the series such as the double-sided slide stop and reversible magazine release are of course also present on the Pro SD models.
The cutouts on the top of the slide for the iron sights with adjustable rear sight, which are completely usable out of the box, were inspired by Glock, so any retrofit sights the tuning market has to offer can be used if necessary.
By the way, every Pro SD comes with a green colored main return spring which is explicitly intended for use with a silencer only.
Additionally, the manufacturer includes three 18-round steel magazines with each version.